7th March 2022
Thank you so much everyone for your generosity! We are not accepting any more clothes and bedding until we have processed what we have at the warehouse. We are still accepting food, medical supplies and toiletries as shown below. Thank you all for your support and understanding at this time.
Further updates will follow as we have more news to share.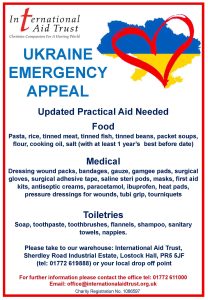 Truck loaded Friday 4th March, and is now on the way to Moldova where Pastor Victor and team are supporting Ukrainian refugees. Thank you very much to everyone who helped make this possible!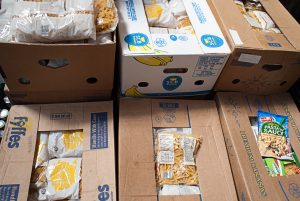 URGENT APPEAL – please follow this link to read the latest news and how you can help https://bit.ly/3pCgp0r
Part of the former Soviet Union, this beautiful country in Eastern Europe, has large areas of unspoilt countryside, mountains, lakes, and sunflower fields. The capital city is Kiev, which is steeped in history and also moving forward as a business and tourist destination.
Our work in Ukraine began in 1991, when Bernard, our CEO and founder visited and saw the horrendous conditions in orphanages, hospitals and ordinary homes following the fall of the Soviet Union. Life in Ukraine is much improved since those days, but there is still poverty and a great need for our work. We work closely with local churches to bring the practical and spiritual gospel to prisoners, AIDS and TB sufferers, elderly people, children and young people in children's homes and through holiday camps, and to disadvantaged village communities.
https://www.stewardship.org.uk/partners/ukraineministry/oneoff
Click here to support our Ukraine ministry

Please follow the links below to find out more about the different aspects of our ministry in Ukraine:
| | |
| --- | --- |
| Ukraine shoebox distribution 2021 | |
| A loving home in Ukraine | |
| Summer camps in Ukraine | |
| Prison ministry – Ukraine | |
| Church outreach in Ukraine | |
| Hospital & rehab ministry | |